Food n Walk Tour Profiles:

 Culinary Tours in and around Parma, Italy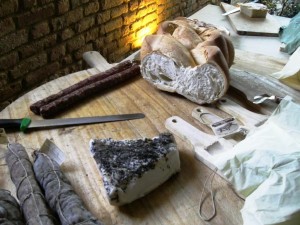 Tasting at the Antica Corte Palavicina Relais
Try this the next time you have the chance to chat with an Italian: Tell them you're thinking of going to Emilia Romagna. A dreamy look will pass over their face, and they will say something about the best food in Italy. (Second, of course, to their mother's.) And by "best food in Italy," they probably mean "best food in the world."
Located just north of the Apennine mountains, the province of Emilia Romagna is known as the bread basket of Italy. One of its culinary capitals is Parma, as in Parma ham and Parmesan cheese. Drive into Parma from the south on the Autoroute and you'll pass the Padillo Pasta Plant. But that's just the beginning. The city's reputation, even among gourmands from other great Italian culinary towns, is unassailable:  A foodie tour of Parma and the surrounding area may settle the question.
In Your Bucket Because…

If Italians think this region has the best food in Italy,  are you really going to pass it up?
This is a great place to learn about the slow food movement and the aesthetics of  locally-grown artisinale culinary traditions.
Good for foodies and lovers of the good life.
Parmigiano-Reggiano Cheese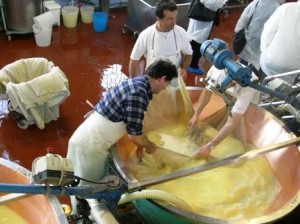 At the Parma cheese factory
If you think you know what Parmesan cheese is, and if you are envisioning a shiny green container, you might want to be very quiet when you enter the Parmigiano-Reggiano Museum in nearby Seragna.
The first exhibit is  a wall of shame: a collection of  inauthentic Parmesan-style cheeses sold around the world, green packaging figuring prominently. Our guide practically spits as he gestures at it in disgust. As far as he is concerned,  a crime against food has been committed. And, in a very real sense it has: Calling something Parmesan cheese in the European Union is in fact against the law, unless the cheese comes from Paremesan-Reggiano region, and unless it is made by certified producers according to an exacting set of specifications.
The rules are administered under a program known as the "Protected Domain of Origin" — P.D.O. –  which is a sort of trademark program that protects traditionally made  regional products from copycatting.  Two of Parma's best known  traditional products, both holding "Protected Designation of Origin" certification, are Prosciutto di Parma (also known as Parma ham) and Parmigiano-Reggiano cheese. Both are made according to exacting traditional specifications that regulate ingredients, manufacturing processes, and aging conditions.  Visitors can arrange to visit the small-scale factories where these products are made the traditional way, using processes handed down through many generations.
Tours begin early: The factory runs on a farmer's schedule not a tourist's schedule, and by the time we arrived at around 8:30,  the spotless factory's stainless steel tanks were filled with yellowish milk. We followed from one station to the next as the cheese was stirred, checked, strained, and molded into a round wheel that, with brining and drying and aging, will, some months later, be sold all over the world.
Prosciutto di Parma: Not Just a Slice of Ham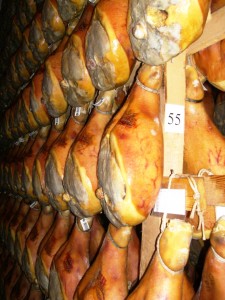 At the Parma Ham Factory
I think it's fair to say that only real foodies will enjoy a full-length, full-fledged tour of a Parma ham factory The process of making Prosciutto di Parma  is painstaking.  When we arrived, a load of fresh hams had just been delivered and was waiting to begin the process: It will take months before that ham is finally ready for eating.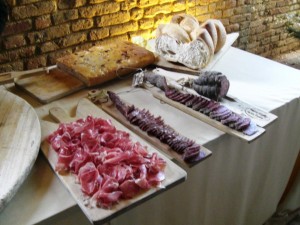 Home cooking at Antica Corte Palavicina Relais
Practicalities
Many companies offer culinary tours of the region notably , which might also include pasta making classes or tasting of Modena vinegar, as well as winery tours.  For more information about agritourism visits to manufacturers and farms, contact Food n walk tours. The Association of the Parma Province Food Museums has brochures about related food museum exhibits in the area.
Copyright 2012, Karen Berger. All rights reserved.