It's what we do best … 
Culinary Tours in and around Parma, Italy
By 
Karen Berger
Posted January 1, 2012 | Revised March 18, 2012 |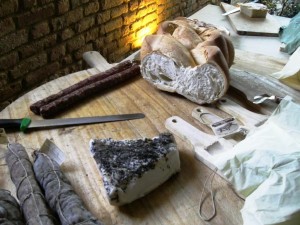 Tasting at the Antica Corte Palavicina Relais
Try this the next time you have the chance to chat with an Italian: Tell them you're thinking of going to Emilia Romagna. A dreamy look will pass over their face, and they will say something about the best food in Italy. (Second, of course, to their mother's.) And by "best food in Italy," they probably mean "best food in the world."
Located just north of the Apennine mountains, the province of Emilia Romagna is known as the bread basket of Italy. One of its culinary capitals is Parma, as in Parma ham and Parmesan cheese. Drive into Parma from the south on the Autoroute and you'll pass the Padillo Pasta Plant. But that's just the beginning. The city's reputation, even among gourmands from other great Italian culinary towns, is unassailable:  A foodie tour of Parma and the surrounding area may settle the question.
In Your Bucket Because…

If Italians think this region has the best food in Italy,  are you really going to pass it up?
This is a great place to learn about the slow food movement and the aesthetics of  locally-grown artisinale culinary traditions.
Good for foodies and lovers of the good life.
Culinary Tours in and around Parma, Italy
Culinary Tours in and around Parma, Italy
Culinary Tours in and around Parma, Italy
Culinary Tours in and around Parma, Italy
Culinary Tours in and around Parma, Italy
Culinary Tours in and around Parma, Italy
Culinary Tours in and around Parma, Italy
Culinary Tours in and around Parma, Italy
Culinary Tours in and around Parma, Italy
Culinary Tours in and around Parma, Italy
Culinary Tours in and around Parma, Italy
Culinary Tours in and around Parma, Italy
Culinary Tours in and around Parma, Italy
Culinary Tours in and around Parma, Italy
Food n Walk Tours… what comes naturally